A superapp combines the features of an app, a platform and an ecosystem in one application, providing a platform for third parties to develop and publish their own miniapps on."
What is FinClip?
FinClip helps any business build their super-apps with on-premise, self-managed digital storefront
A PaaS for digital app development and lifecycle management

A Digital Storefront for content discovery and instant use

Mini-App content authoring toolchain (IDE)

Enterprise Secured Mini-App browser
The FinClip Advantages

Loose Coupled

Follow single-responsibility principle, there is one Mini-App for one functional purpose, each a Lego. An app is composed with pre-built Legos

Nimble & Agile

Reduce time-to-market by drastically shortening the develop-test-publish cycle. Each Mini-App designed and implemented by a small team, end-to-end, without interfering others

Code and Throw

The test and verification of business ideas will no longer be restricted by the app development cycle. Just code it and throw it out, with full canary release control
Aim to provide a cloud-native digital foundation framework to empower enterprise digital transformation

Enable enterprises with agility, scalability and connectivity to develop, source and publish Mini-App contents as well as building self-owned digital eco-systems – exactly similar to what Internet leading platforms own, but beyond

Born in the financial industry and designed with financial service scenarios in mind, though later expanded into all industries to become a general purpose foundation

Provide on-premise solution that is licensable to system integrators and technology providers for reselling and redistribution
Multi-devices, Any Industries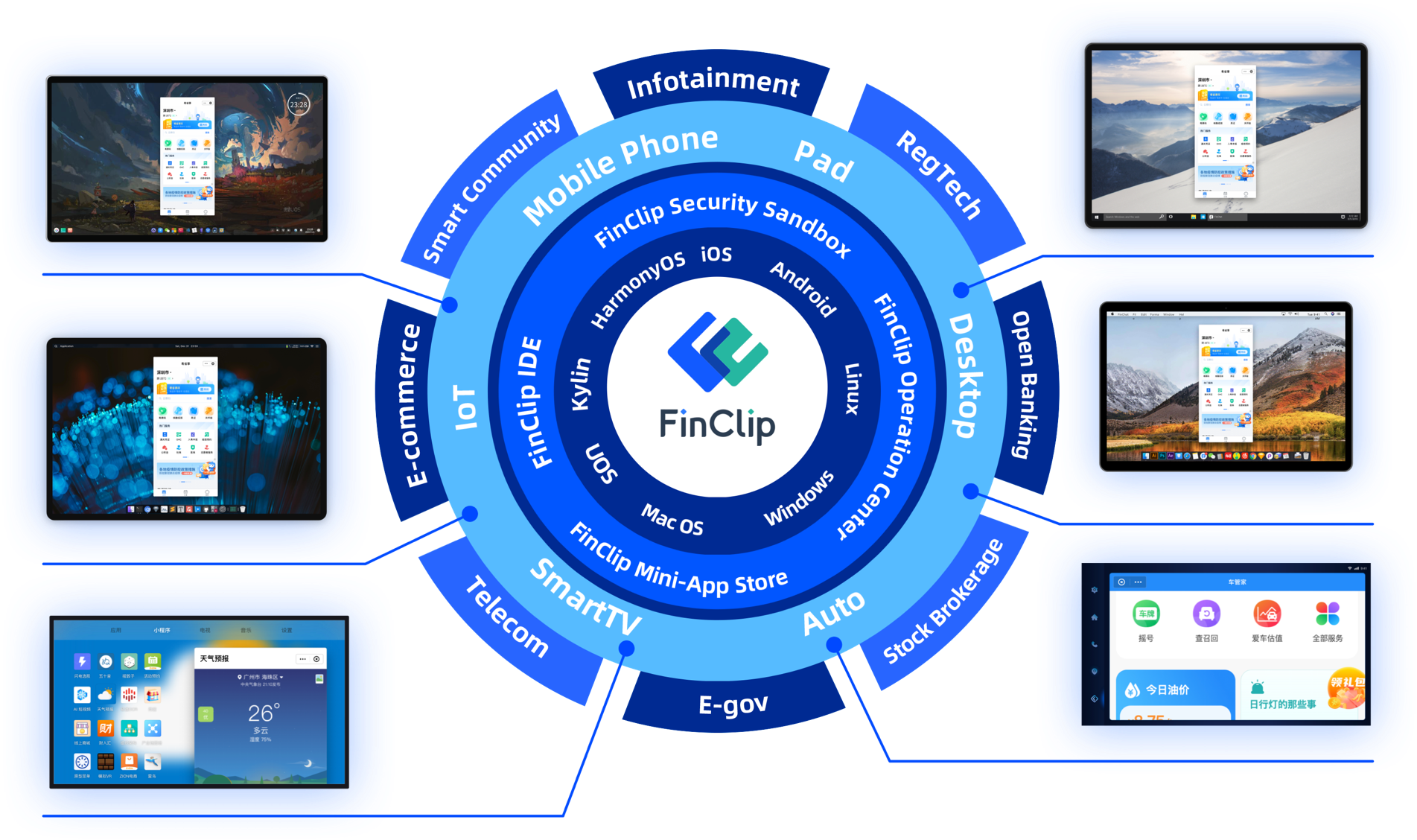 Write Once, Run Everywhere – allow open standard-based application code to support any devices

Being agile – online review workflow, fast publishing, grayscale release, real-time withdrawal upon risk

Securely run code in sandbox not only from self, but also from external partners with low trust

Operate on-premise Mini-App store to aggregate contents and build ecosystem

Let IT rapidly build native applications by composing Mini-Apps and plugins as Legos

Create and manage a digital content supply chain to bridge Mini-App suppliers and consumer channels
Ready to host your own Mini-App Store?
Reasons why enterprises empower their super-apps with Mini-App stores
LEVERAGE

Own and build an open ecosystem with contents contributed not only by internal business lines but also by external partners.

AGILITY

Achieve real agility because granularity for service functionality can be fine-grained and developed concurrently to shorten time-to-market.

SCALE

Create and publish financial application contents and services in massive scale.

CONTROL

Retain full control of contents and services, with the capability to publish them to scoped audience accurately via grayscale release.